Fast Healing for your Sports Injury without Surgery or Drugs
If a sports injury has left you sitting on the sidelines in pain, the chiropractic specialists at ChiroHealth are here to help you heal quickly and overcome your sports related injury. Over the past two decades, we've helped all types of athletes–from weekend players to professionals—fully recover from their injuries and get back into the game. Whether they are suffering from muscle or joint pain, back pain or neck pain, Ashburn and Loudoun County athletes can depend on our world-class therapies.
Dr. Shandon Thompson, D.C., heads the chiropractic sports team at ChiroHealth Spine & Sports Care. Dr. Thompson is board certified as a chiropractic sports physician by the American Chiropractic Board of Sports Physicians. To earn his certification, he had to complete 120 hours of rigorous, post-graduate training and pass a comprehensive written exam.
Sports Therapy Goals
Our chiropractic sports professionals focus on correcting and preventing musculo-skeletal and connective tissue injuries and biomechanical imbalances. Simply put, our primary goals are:
To heal your sports injury in the quickest possible time
To prevent future re-injury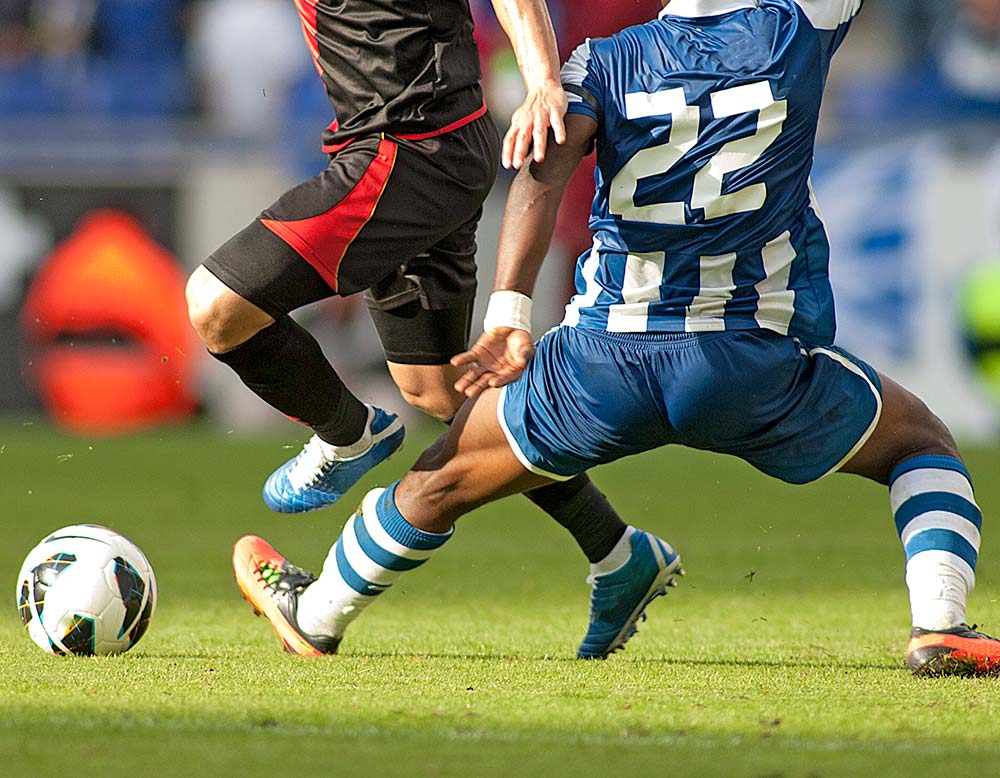 Chiropractic Sports Services
Our state-of-the-art services range from sports injury diagnosis through treatment and follow-up.
Physical Therapy & Rehabilitation –Dr. Thompson will design a personalized rehabilitation program specifically for your sports injury to speed your recovery, including a home exercise program.
Sports Massage – This specialized massage focuses on the muscles involved in the sports injury. Whether it's a focused shoulder massage for rotator cuff injuries, a frozen shoulder, neck pain or back pain, Ashburn and Loudoun County residents experience comforting relief at the hands of our experienced therapists.
Chiropractic Adjustments
NEW! Computer Precision Spinal Joint Mobilization, developed by N.A.S.A. Engineers — This is the most advanced piece of chiropractic equipment in existence today for improving the mobility of spinal joints. With the guidance of computerized technology, we are able to gently tap problem areas to make adjustments and release pain.
Cold Laser Therapy – Each therapy application re-energizes injured cell membranes, speeds and improves the healing process while reducing pain and inflammation.
Other Sports and Physical Medicine Services Include:
Electrical Muscle Stimulation
Cervical/Lumbar Traction
Ultrasound Therapy
Inter-segmental Spinal Traction
Nutritional Support
Foot Orthotic and Gait Analysis
Performance Evaluations
Radiological Evaluations
Comprehensive Sports Injury Evaluation
The first step in your sports injury treatment is a personal sports injury assessment and evaluation by Dr. Thompson which includes:
Consultation: Dr. Thompson will discuss your problem in detail and answer your questions and concerns.
Case History: A complete case history will be taken, detailing your sports injury.
Computerized Spinal Joint Mobility Scan: Cutting-edge computerized technology, developed by N.A.S.A. engineers, to pinpoint hidden joint injuries.
Specialized Comprehensive Physical Examination: orthopedic, neurologic and physical injury evaluation.
Recommended Action Plan: This written plan details the results of your examination and diagnostic tests and explains your treatment options. If Dr. Thompson's evaluation reveals a condition that is better treated by other means, we will refer you to an appropriate doctor in our network of trusted medical professionals.